World Premiere Performance of
Karl Jenkins'
ONE WORLD
The UNESCO Concert for Peace 2023
Help us to promote peace through great music
World Premiere 19th November 2023.
Livestream from Brucknerhaus, Linz, Austria.
Conducted by the Composer.
International soloists.
More than 1000 choral singers and orchestral players fromover 50 countries.
All artists are donating their services.
Please help us to write music history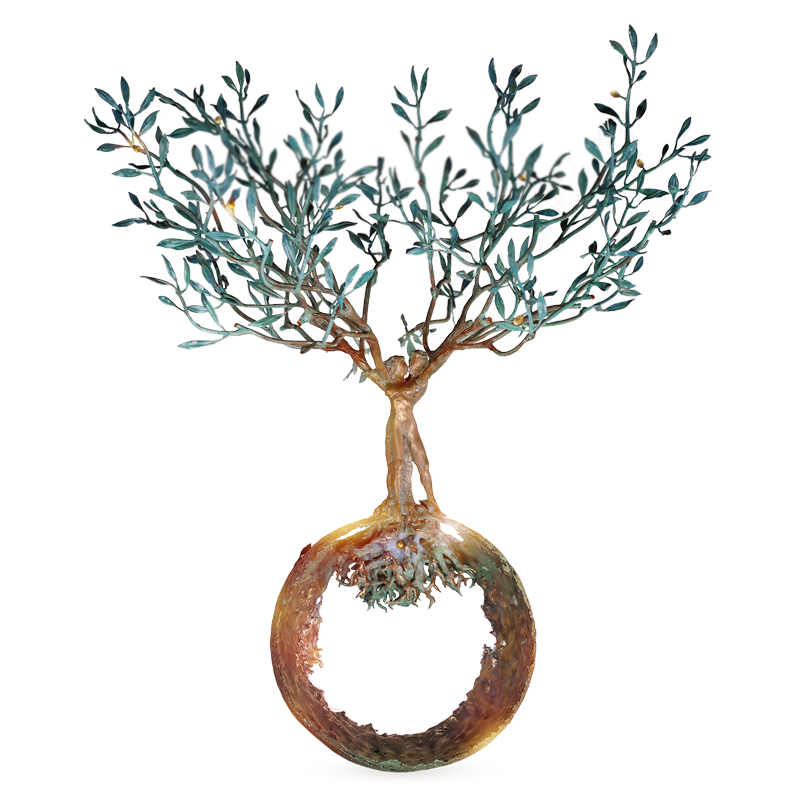 HELP US TO MAKE MUSIC HISTORY WITH "ONE WORLD"!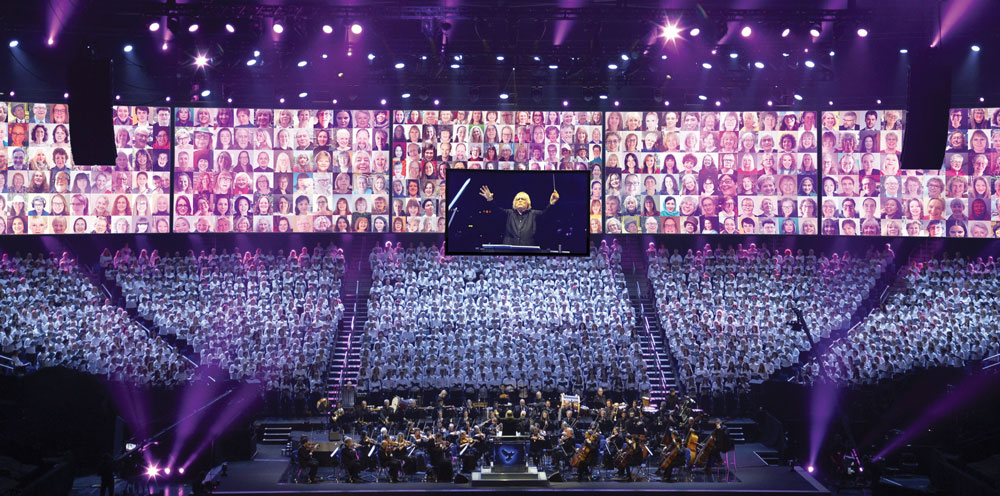 World Premiere – 19th November 2023: The UNESCO Concert for Peace 2023. LIVE from the Brucknerhaus, Linz, Austria.
"An event that sends such a clearly audible signal for peace and advocates dialogue, peace and reconciliation is a welcome ray of hope in our crisis-ridden times, that can give many people new hope and confidence." Jürgen Meindl, Austrian Federal Ministry of Culture
Commissioned and presented by the World Orchestra for Peace and the World Choir for Peace
For the first time in music media and broadcast history at a world premiere, singers and players from around the world will join the performers in the concert hall via livestream under the baton of the Composer, Sir Karl Jenkins. The premiere will be broadcast and livestreamed to the world as a gift from the composer, all the performers and the Republic of Austria.
We need your sponsorship/support to make it happen! Help us to make Music History:
Sir Karl Jenkins, one of the world's most-performed living composers, has composed his latest work One World, co-commissioned by the World Choir for Peace and the World Orchestra for Peace.
The World Choir for Peace was founded in 2018 to mark the 100th anniversary of the First World War, when Jenkins conducted a commemorative performance of his The Armed Man: A Mass for Peace in Berlin with a choir of 2000 singers from 30 countries and the World Orchestra for Peace. UNESCO Artists for Peace, they were co-founded by Georg Solti and Charles Kaye in 1995 to reaffirm "the unique strength of music as an ambassador for peace. This paved the way for the co-commissioning partnership for the monumental new choral work, One World.
One World deals with a fractured world (populist governments, plagues, climate change, human trafficking, disrespect for basic human rights, terrorism, war) and heralds a vision of a peaceful and egalitarian planet. The work is best encapsulated by one of the texts set: 'Tikkun Olam', Hebrew for 'repair the world', a Jewish concept of stewardship over God's creation.
The music is scored in Jenkins's inimitable style familiar from such works as Adiemus: Songs of Sanctuary, The Armed Man: A Mass for Peace, Requiem and The Peacemakers. To create his global vision for One World, he has taken inspiration from texts as diverse as the Bible, the Hindu Gayatri Mantra, the poetry of the English Romantic poet Percy Bysshe Shelley, the African American abolitionist and suffragist poet Frances Harper (ca.1850) and Lebanese American writer, poet and artist Khalil Gibran. As in many of Jenkins's works, Carol Barratt has contributed some impactful text (including for the movement Paradise Lost?), as well as various adaptations.
"In 1998, I was commissioned to write a piece, The Armed Man: A Mass for Peace, that was to herald a new millennium with the hope of a lasting period of peace. The war in the Balkans was happening while I was composing, which is why I dedicated that work to the victims of Kosovo.
I began One World during the first UK COVID lockdown in 2020. Progress was slow and I had a nagging concern that issues raised in the work would be irrelevant by the time of the premiere and record release, in 2023. Twenty odd years since writing The Armed Man, and three thousand performances later, little has changed and if anything, the global situation has worsened; another war in Europe and a fractured world in so many ways. 'tukkin olam' - repair the world"
Karl Jenkins
"For me as the commissioner of the magnificent One World, a personal dream comes true. It's a special honour to collaborate with this outstanding composer, Karl Jenkins, in the creation of this new major work. His music offers a powerful contribution to heal the world. I look forward very much to its premiere with the wonderful World Orchestra for Peace and my choir, the World Choir for Peace, under the baton of the composer. May it go on to fulfil its mission in countless performances worldwide!"
Nicol Matt (Artistic Director of the World Choir for Peace)
"The World Orchestra for Peace and the 68 players from 28 countries who join Karl Jenkins for One World share his vision and hope for this new work. As its concertmaster Krzysztof Wisniewski has touchingly expressed, 'Karl's music has captivated me for many years and therefore it is a personal privilege to be in at the 'sound birth' of this new masterpiece. It was very exciting for us to help bring this new creation, with its hopes for peace and world unity, to life. During such times as those in which we live, the emotional message through his music is needed more than ever'."
Charles Kaye (Director and Co-founder, World Orchestra for Peace)
"This really was such a special experience. Being part of a huge group of people all there to do the same thing. The choir took your breath away when we sang and the orchestra was just fabulous to be directed by Sir Karl Jenkins himself. Such an emotional piece of music - it really was fantastic! The best experience ever! Watching the video back and also to see the videos shown behind us as part of the overall concert - I practically cried all the way through. I was really honoured to have been part of this project."
Jacquie Dowsett (Participant)
Sir Karl Jenkins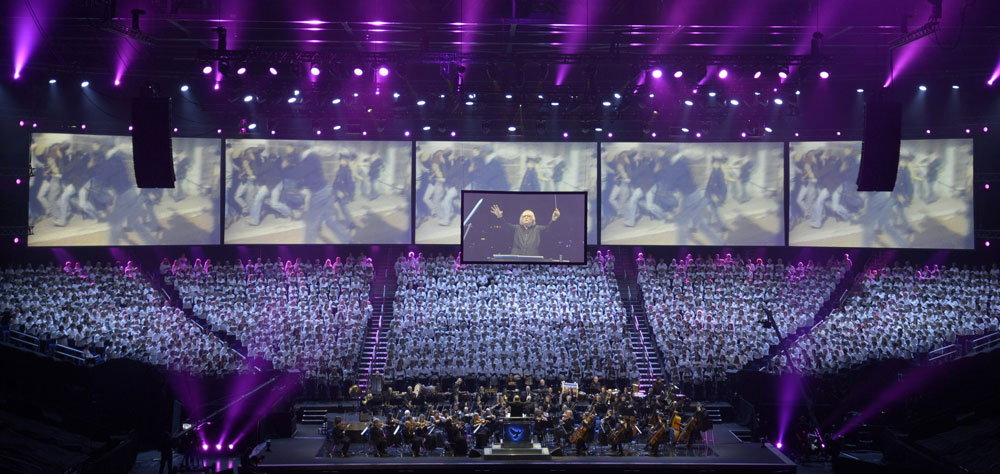 Sir Karl Jenkins is one of the world's most performed living composers. Together with the seminal Adiemus project, The Armed Man: A Mass For Peace is perhaps his best known work with over 3000 performances globally. Highlights include his performance, in New York, on the 10th anniversary of 9/11, while his recording has been in the UK Classical chart for 20 years.
Composing music for The Prince of Wales (King Charles III), Sir Bryn Terfel, and Dame Kiri Te Kanawa, his chart topping albums include Requiem, Palladio, Stabat Mater, Gloria, Quirk, The Peacemakers,' with 17 gold and platinum' discs overall.
Sir Karl has consistently been the highest placed living composer in Classic FM's "Hall of Fame, – "As a composer he recognises no boundaries – musical, commercial, geographical, or cultural. His is a way of thinking and composing that is perfectly in tune with the spirit of the times".
Ruby Hughes (Soprano)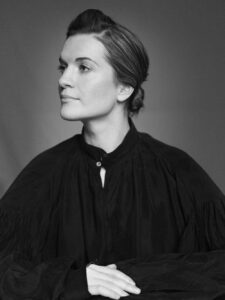 Ruby Hughes is a former BBC New Generation Artist and was winner of both First Prize and the Audience Prize at the 2009 London Handel Singing Competition. She holds a Borletti-Buitoni Trust Award and was Shortlisted for a 2014 Royal Philharmonic Society Music Award.
She has become known for her interpretations of the music of the baroque and 20th and 21st Century, performed at every turn with a unique sensitivity and artistry. On the opera stage she has sung productions for Theater an der Wein (Roggiero in Rossini's Tancredi, and Fortuna in L'Incoronazione di Poppea), Aix-en-Provence Festival (EuridiceL'Orfeo), Opéra de Toulon (Rose Maurrant Street Scene) and Potsdamer Winteroper (title role, Theodora) and in the UK has performed major roles with English National Opera, Garsington Opera and for Scottish Opera.
Kathryn Rudge (Mezzo Soprano)

Mezzo soprano Kathryn Rudge, born in Liverpool in 1986. Named as The Times 'Rising Star of Classical Music and 'One of Britain's brightest young mezzos' (What's On Stage). Kathryn was a BBC Radio 3 New Generation Artist (2015-17), English National Opera (ENO) Harewood Artist, YCAT Artist and she is an Associate Member of the Royal Northern College of Music where she studied voice with Susan Roper (2004-11) and Junior RNCM (2002-04).
Kathryn is the recipient of awards including; Yamaha Music Foundation of Europe Award, BBC Education Bursary, Susan Chilcott Scholarship, The Joaninah Trust Award, Kathleen Ferrier Society Bursary; Joyce Budd Award, Worshipful Company of Musicians Silver Medal and the Joyce and Michael Kennedy Award for the Singing of Richard Strauss, and was nominated for a Royal Philharmonic Society Award. Kathryn made her operatic debut as Cherubino in Fiona Shaw's new production of Mozart's 'Le Nozze di Figaro' (ENO 2012) and has since performed in principal opera roles including; Rosina in Jonathan Miller's production of Rossini's 'The Barber of Seville' (ENO), Cherubino 'Le Nozze di Figaro' Glyndebourne on Tour, Dorabella in Mozart's 'Cosi Fan Tutte' Garsington Opera, Zerlina Mozart's 'Don Giovanni', Hermia in Britten's 'A Midsummer Night's Dream,' Sesto Handel's 'Guilio Cesare,' Annio in Mozart's 'La Clemenza di Tito' for Opera North. Kathryn performed the title role in Bizet's 'Carmen' with the British Paraorchestra conducted by Charles Hazlewood at Glastonbury and at RNCM she performed the role of Erika in Barber's 'Vanessa'. Helena (Offenbach/La Belle Helene), Olga (Tchaikovsky/Eugene Onegin) at Haddo House. Kathryn has performed and recorded with Opera Rara; Leoncavallo – 'Zaza', Bellini 'Adeslon e Salvini,' (BBC SO) and Donizetti's 'Il Paria' conducted by Sir Mark Elder (2021).
Roderick Williams (Baritone)

Roderick Williams is one of the UK's most sought-after baritones and is constantly in demand on the concert platform and in recital, encompassing repertoire from the baroque to world premieres.
Opera engagements have included major roles at leading opera houses worldwide including the Royal Opera House Covent Garden, English National Opera, Dutch National Opera, Dallas Opera, the Bregenz Festival and Oper Köln. He has been involved in many world premieres such as Alexander Knaifel's Alice in Wonderland, several operas by Michel van der Aa, the title role in Robert Saxton's The Wandering Jew, and the UK premiere of Sally Beamish's Judas Passion with the Orchestra of the Age of the Enlightenment.
World Choir for Peace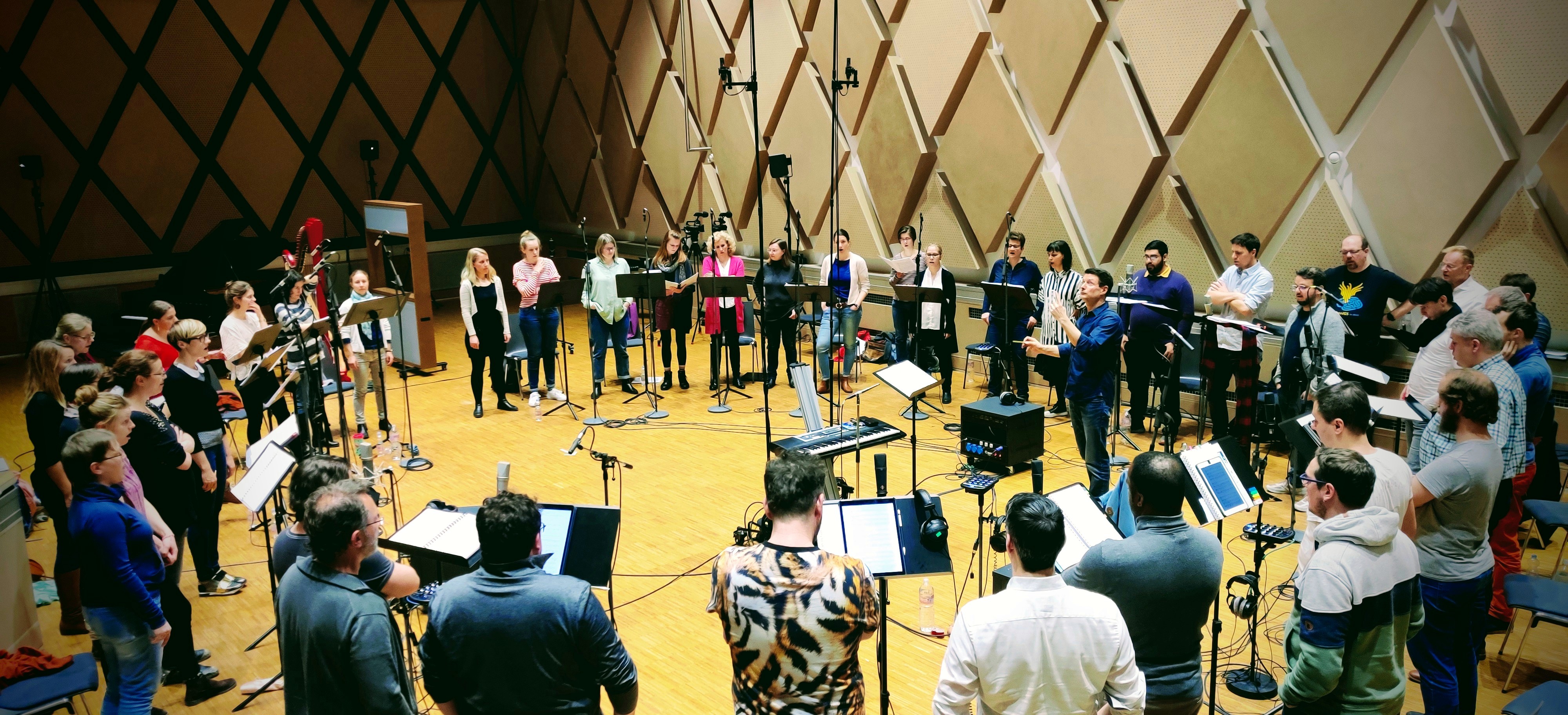 The World Choir for Peace has a core consisting of 36 professional singers from 24 different nations. The Come & Sing projects expand the choir with around 2,000 music enthusiasts from all over the world, coming together to sing for peace and the preservation of our planet. Supporting this idea are well-known international artists and composers who have written pieces especially for the choir, which touch our innermost emotions. They encourage us to use the resources of this earth carefully, to protect human rights, to promote international understanding and tolerance for each other and to create a culture of peace and awareness in which the worship of our nature can again find a peace within our world.
The choir's goal is to bring about a culture of peace through singing together, both as individuals and as part of our choral community. We have only one planet and our common aspiration should be to honour it and treat all of its creatures with care. This will help to secure a future that is not shaped by heat and drought, by storms and flood, by violence, terror and wars.
World Orchestra for Peace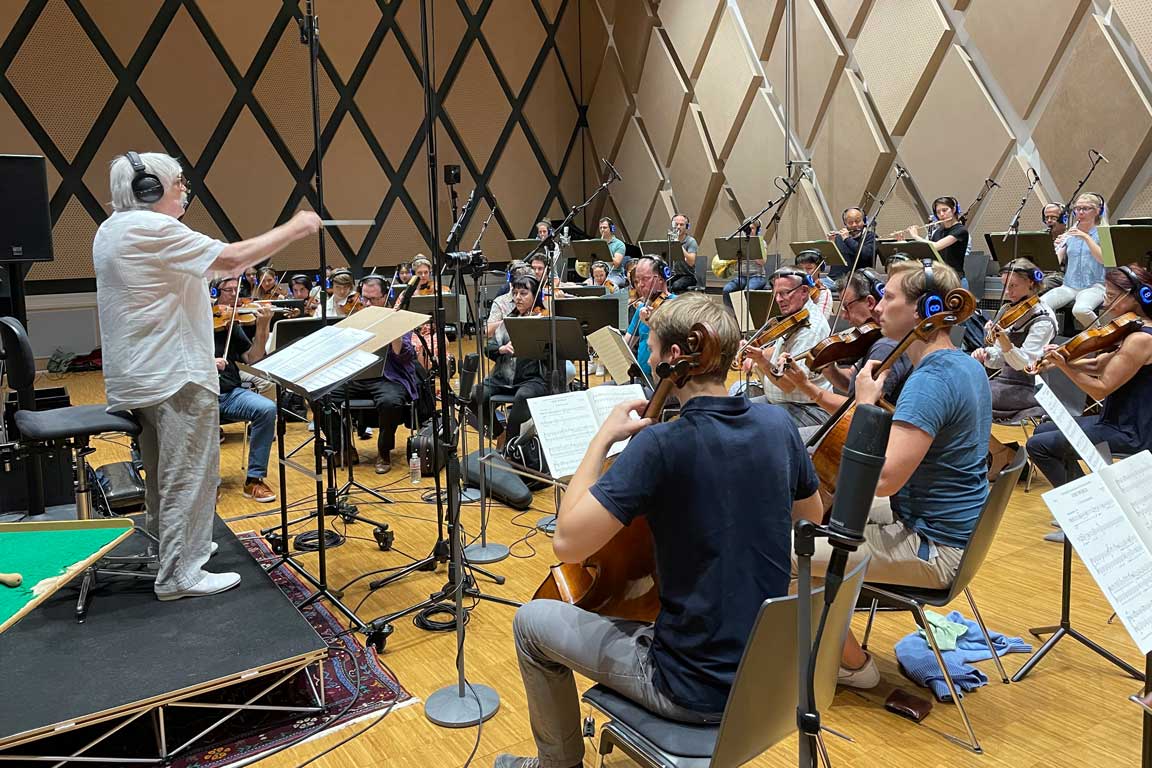 The World Orchestra for Peace was founded by Sir Georg Solti and Charles Kaye in 1995, for a special concert in Geneva to mark the 50th anniversary of the founding of the United Nations. Invited to direct the concert and to choose whichever orchestra he pleased, Solti's proposal was to bring together the finest individual players from major orchestras all over the world to make a unique demonstration for peace. Since his death in 1997, the orchestra has been reassembled and directed by Charles Kaye, who invited Valery Gergiev to conduct it for the opening concert of Baden-Baden's new Festspielhaus in 1998 and for 22 concerts between then and 2019. These included BBC Proms appearances in 2000 marking the 60th anniversary of the commencement of the London Blitz; in 2005 as part of the orchestra's first world tour on the 60th anniversary of the cessation of hostilities of the Second World War; in 2010 for its 15th anniversary and the 90th of the Salzburg Festival and in 2014, marking the centenary of the outbreak of the First World War. Further concerts have been given in Abu Dhabi, Beijing, Berlin, Brussels, Budapest, Chicago, Jerusalem, Krakow, Moscow, New York, Rotterdam, St. Petersburg and Stockholm. Sir Donald Runnicles made his first appearances with the Orchestra for its two concert performances of Beethoven's 9th Symphony at the BBC Proms and Würth in 2018, both designated UNESCO Concerts for Peace.
Composer Sir Karl Jenkins invited and conducted the orchestra for the first time in November 2018, for a performance of his Armed Man – A Mass for Peace in Berlin, commemorating the 100th anniversary of the WW1 Armistice – and given in partnership with the newly formed World Choir for Peace. Together they commissioned Sir Karl's One World, which will receive its World Première at the Brucknerhaus, Linz in November 2023.
The orchestra became the first to be designated UNESCO Artist for Peace in 2010, since when its over 700 players from 125 orchestras in 70 countries have continued their work as UNESCO Goodwill Ambassadors. The World Orchestra for Peace has released 6 DVD, 3 Blu-ray and 6 CD recordings of its live performances and tours, two documentary films Solti's Vision in 2010 and From War to Peace in 2014 and has worked in co-production partnerships with UNITEL, the BBC and Bernhard Fleischer Moving Images for many of its TV and AV productions.
Hard-Chor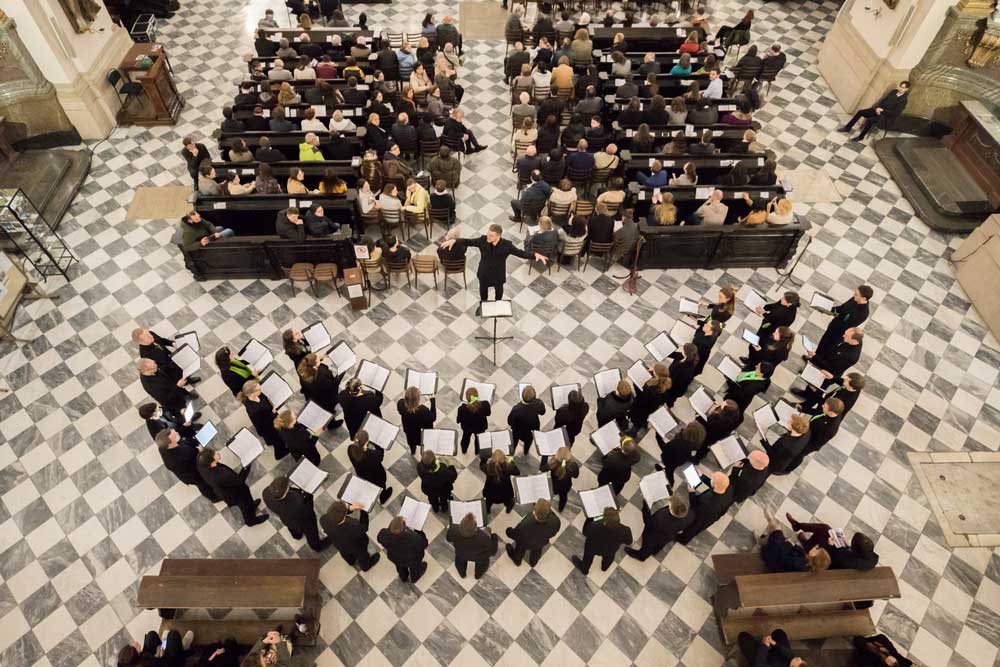 The 60 passionate singers that make up the Linz Hard-Chor have one thing in common – singing in a choir means everything to them. The Upper Austrian vocal ensemble are proud of their regular performances, wide ranging and colourful choral literature and lots of joy in experimenting – a new approach to choral singing.
"Choral singing is an old art form that we at the Hard-Chor want to transpose musically and scenically into the present. This not only requires musical ability, but also a little courage to experiment." – Director Alexander Koller.
The Hard-Chor was founded in 2007. Since then, the choir has evolved and earned its place in the choral cultural scene. Choral singing should touch people, entertain them and also challenge them a little. The choir's repertoire includes choral works from various musical eras and composers, often including contemporary music and world premieres.
Stay at Home Choir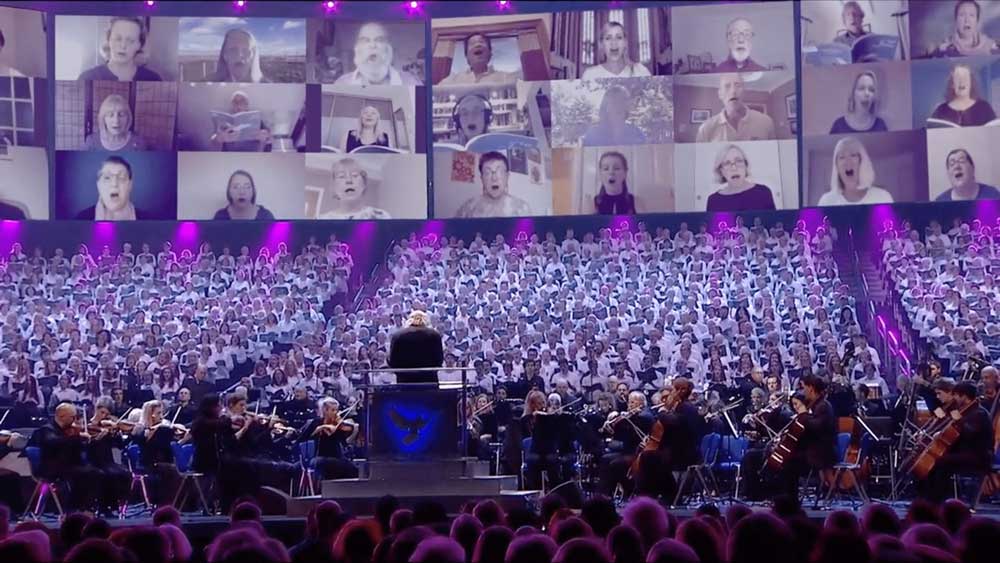 The Stay At Home Choir is a global singing community using digital technology to bring music lovers together. Our members take part online to create recordings and meet world-class composers, conductors and artists from the comfort of their own homes.
Stay At Home Choir members have access to a huge variety of exclusive opportunities, from album and video recordings to digital access to live events. Learning sessions are fun and inclusive, supporting members to improve their singing skills, confidence, and choral knowledge whatever their previous experience.
To date the Stay At Home Choir has involved more than 29,000 singers around the world in inspiring online singing projects with artists such as Marin Alsop, Sir Karl Jenkins, Gareth Malone, John Rutter, Sir James MacMillan, Jessica Curry, Morten Lauridsen, Sarah Quartel, Christopher Tin, Elaine Hagenberg, The King's Singers, I Fagiolini, VOCES8, The Swingles, The Royal Philharmonic Orchestra, Boosey & Hawkes, Hal Leonard, OUP, Faber and The Berlin Philharmonic Hall.
The Stay At Home Choir is led by Tori Longdon and Jamie Wright, and was the recipient of the first Royal Philharmonic Society Inspiration Award.
Be part of the WORLD CHOIR FOR PEACE massed choir at the premiere performance of ONE WORLD on 19th November 2023 in Linz, Austria!
We are inviting singers to perform a few movements of the World Premiére of "One World" conducted by Sir Karl Jenkins himself with the World Orchestra for Peace and supported by the World Choir for Peace Pro Choir and members of the award winning Hard-Chor, Linz.
We also are delighted to be collaborating with award-winning global community of music lovers and artists – STAY AT HOME CHOIR who, alongside Sir Karl Jenkins will provide excellent preparation for the concert learning the music with online rehearsals and meeting fellow participants.
Live rehearsals with Sir Karl Jenkins and the WCP team will take place in Linz, Austria.
The Venue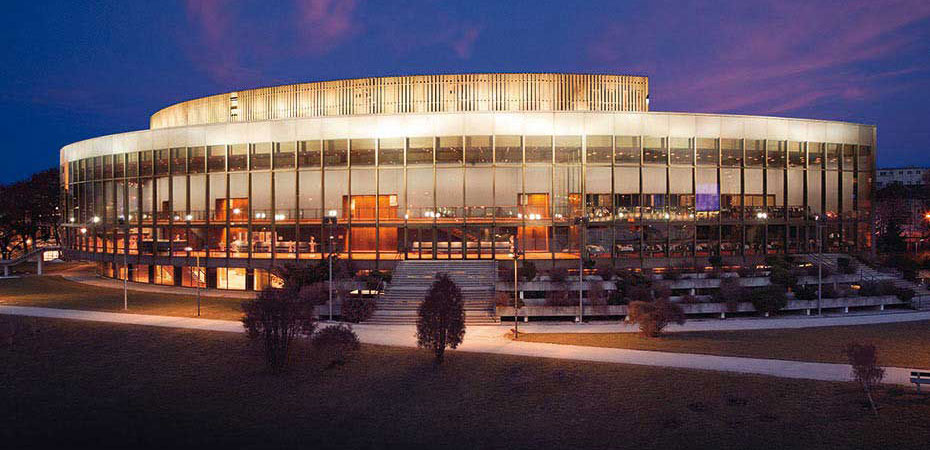 Brucknerhaus Linz
A stage full of history. A concert hall with outstanding acoustics. A repertoire of international format. Architecture which testifies to audacity and stylistic confidence. The Brucknerhaus is what music should be: an intense and haunting symphony, an emotional monument to passion.
Its location in the Donaupark, its timelessly elegant architecture, but above all the excellent acoustics of its two halls make the Brucknerhaus in Linz one of the most attractive concert venues in the world. Opened in 1974 by the Vienna Philharmonic Orchestra conducted by Herbert von Karajan, it provides a wonderful setting for renowned orchestras, conductors and soloists from around the world. In addition to stars from the international classical music scene, the Brucknerhaus is also a regular guest venue for national music stars and offers young talents the opportunity to acquire their first important musical experiences.
Schedule
Friday, 17.11.2023
REGISTRATION: Ticket Desk at Brucknerhaus Linz
12:00 – 13:30 Participants joining the Workshop
13:30 – 18:00 General Registration
14:00 – 15:00 Workshop with Sir Karl Jenkins, World Choir for Peace and World Orchestra for Peace at the Brucknerhaus Linz, Großer Saal
18:00 Meeting in the Brucknerhaus Lobby for going to rehearsal venue
18:30 – 21:30 Rehearsal (conductor: Alexander Koller) BORG Honauerstr. 24, 4020 Linz
Saturday, 18.11.2023
9:00 Warm Up in the Foyer of Brucknerhaus
9:30 – 13:30 TUTTI Rehearsal I
15:00 – 16:30 Open Sing with Tori and Jamie of the Stay at Home Choir // Meet & Greet for the LJC
17:00 – 18:30 TUTTI Rehearsal Il Brucknerhaus
Sunday, 19.11.2023
10:00 Warm Up Singers in the Foyer of the Brucknerhaus
11:00 Dress rehearsal in concert dress (safety recording for the Stream)
17:00 Meeting in concert dress (Kleiner Saal)
18:00 Concert
19:45 Post Concert Party (depending on funding)
Subject to changes
Sing from Home
The Stay at Home Choir are calling all members, whether they were part of the original project or not, to add their face to the World Premiere of this chart topping album from Sir Karl Jenkins, taking place in Linz, Austria in November 2023.
It's free to get involved, refresh memories of the tracks The Tower of Babel (Let's Go) and Savitur and then record a video submission for the arena screens which will complement the SAHC audio being used in the premiere.
If singers haven't sung the tracks before, you'll still need to know how the music goes to help us to create this huge visual effect, so when you sign up you will have full access to our project resources, including uMix for our two pieces.
If you are not a member and you are interested please head over to the SAHC page where you will find all the info you need.
Organiser
Organiser of the event is:
World Orchestra for Peace (Austria) GmbH
Riedenburgerstrasse 7
5020 SALZBURG
Austria
Participation

Registration
Your voice could be part of the World Premiere – join us!
We are giving away 60 Soprano, 60 Alto, 30 Tenor and 40 Bass tickets for participation in the World Choir for Peace Massed Choir to sing 4 movements as part of the ONE WORLD premiere.
Movement: "In the Beginning" bars 3 to 10.
Movement: "Let's Go"
Movement: "Tikun Olam"
Movement: "Savitur"
Locus Iste – Anton Bruckner
Conducted by Sir Karl Jenkins himself and together with the World Orchestra for Peace, World Choir for Peace Pro Singers and Hard-Chor, Linz, it promises to be the most important music event of the century. 
We are delighted to be collaborating with the award-winning global community of music lovers and artists – STAY AT HOME CHOIR who, alongside Sir Karl Jenkins will provide excellent preparation for the concert, learning the music with online rehearsals and meeting fellow participants. Live rehearsals with Sir Karl Jenkins and the WCP team start in Linz, Austria from the 17th November (see schedule).
How to register
Please provide us with your name and address and be sure to add your voice part to the registration process by clicking the appropriate registration button below. These tickets are free of charge, however, a fee of €20 (World Choir for Peace Massed Choir singers only) is needed to cover the administration costs – this is to be paid at the end of registration process. This fee is non-refundable in case of illness or for any other reason to cancel.
Participating singers are responsible for purchasing and bringing their own scores to the event, Boosey and Hawkes publishers have kindly offered a discount code for all  registered participants for individual and/or bulk orders, you will receive this code when the registration is completed.
The participation ticket includes:
25% discount code off One World individual scores
Live rehearsals in Linz from the 17th November
Entrance to workshop with Sir Karl Jenkins in the Brucknerhaus mail concert hall
Meet and greet with Tori Longdon and Jamie Wright – founders of the Stay at Home Choir
Live rehearsals with WOP, WCP, Hard-Chor, Sir Karl Jenkins + Soloist
Participation in the live performance of the ONE WORLD premiere
Dress code for the premiere: White shirt and trousers, please bring black folders.
Please note that we are not responsible for any travel expenses for getting to Linz or  accommodation of the massed choir singers and youth choir, if you need a place to stay please head to the Linz Tourist board to help with any enquiries.
Address of the Brucknerhaus:
Untere Donaulände 7, 4010 Linz, Austria
Tickets are very limited and we will work on a first come, first serve basis, so get registered quickly!

Help Us Make Music History!
Your generosity will help us send this message of peace from Austria to the world:
In the spirit which inspired the creation of this new choral masterpiece, conductor and all performers are giving their services without fee – and wish to present the performance as a gift from Austria to listeners and viewers globally via livestream.
Your contribution, big or small, will help cover the costs of: sharing the event as a gift via livestream from Linz, expenses of participating professional artists', provision of sheet music and instruments.
Sponsorship/Donations can be made by bank transfer to ONE WORLD/W.O.P.:
AT74 1200 0100 2896 3477 (€)
OR
GB12 COUT 1800 0201 7170 06 (£)
OR online:

Would you like to get more information about the ONE WORLD project or just want to send us a message? We will be happy to answer all your questions!