Patron:
Belit Onay, Mayor of Hannover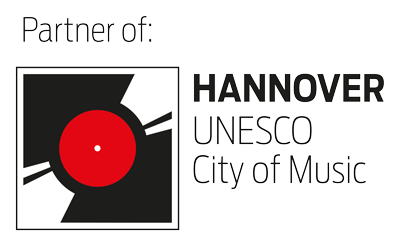 Due to the unexpected sharp rise in Covid-19 infections throughout Germany and especially in the Hannover Region, it is with heavy hearts that we announce the postponement of the International Week for Peace 2022.
It is by no means a decision we have taken lightly, but one we reached after much careful consideration.
Our primary concern is always the responsibility we feel towards our team, guests, attendees, and fellow singers, who we are committed to protect at any cost. But it is equally important to us to stay true to our mission of inspiring peace and unity in the world. For all of these, we will be looking forward to more favourable conditions to ensure that this event runs smoothly and in line with our vision. We are saddened by this decision, but at the same time determined to continue to work hard for a time where we can come together again and sing for peace.
We have some exciting online projects coming up soon – keep your eyes peeled for how to get involved. #singingunites
A CONCERT FOR PEACE WITH JOHN RUTTER
Come & Sing: A Concert for Peace with John Rutter & The World Orchestra for Peace
From August 4 – 6, 2022 the World Choir for Peace invites choirs and singers from around the world to join them and take part in a huge Concert for Peace, singing John Rutter's very moving Requiem. Conducted by the composer himself together with the World Orchestra for Peace, the concert will be held on Hiroshima Remembrance Day, August 6, 2022. Singers from across the globe will get the chance to perform in the domed hall at the Hannover Congress Centre (HCC), Germany. The concert will be televised and another 5,000 people will be able to participate virtually and sing from the comfort of their living rooms. This event offers a unique opportunity to get to know this world-famous composer and his work.
Rehearsals and Concert: Requiem
On July 30 & 31, virtual rehearsals will take place with the Stay At Home Choir and composer John Rutter..
For the Hannover region there will also be two face-to-face rehearsals with Keno Weber by the Lower Saxony Choral Association on July 9 & 10, 2022.
From 4. August you will rehearse with John Rutter himself, the World Choir for Peace and the World Orchestra for Peace in the beautiful Kuppelsaal of the HCC.
And finally, on the evening of August, it will be showtime!
Repertoire
For our Concert for Peace we will be rehearsing and performing John Rutter's Requiem. We are unfortunately unable to provide singers with scores, however to purchase your own copy by heading to John Rutter's publishers.
Rehearsal notes from John Rutter's Requiem and his Ukrainian Prayer are available to download here:
Requiem – rehearsal notes (Revised 2022)
Huge discounts for choir singers!
If your choir is a member of a national or international choral association you are entitled to a 40% discount on a regular ticket price. Take advantage of this special offer!
Here's what is included in the €156 Combi-Ticket (full price: €259)
Online (SAHC) and live rehearsals in Hannover with John Rutter, Concert for Peace participation
Passive participation in either a conducting or singing masterclass
Workshops
Entrance to our Family Singing Day and Gala Concert!
Come & Sing event and Concert for Peace participation only: €113 (Concession), €187 (full price)
Audience tickets for the Concert for Peace on August 6 are also available. 
All proceeds from the Concert for Peace will be going to charities that support Ukraine.
MASTERCLASSES FOR SINGERS & CONDUCTORS
Our very first International Peace Week offers you countless opportunities.
You can take part in exciting masterclasses with renowned artists – deepen your knowledge and be inspired.
For singers...
Tenor David Lee Brewer works with you on opera and musical repertoire and gives you tips on technique, expression and stage presence. In collaboration with Opera for Peace, baritone Thomas Hampson will use Lied interpretation to show you how to bring body and soul into harmony through your singing. International performance coach Kirsten Schötteldreier gives you individual tips on how to find your true and authentic voice.
… and conductors
Oksana Sukhetska (Ukrainian folk song arrangements), Michael Barrett (Where Africa meets West), Bengt Ollén (Scandinavian choral repertoire) and Thomas Caplin (Feel the Groove) will give an insight into their respective working methods. Also a must for singers! All conducting coaches are part of the ICCF (International Choral Conductors Federation). We'd like to thank the Hannover Music School for their collaboration in our conducting masterclasses.
We are offering active and passive participation in these masterclasses.
How to apply for active participation in a masterclass:
Please first purchase a passive participation ticket for the masterclass.
Once you have received active participation confirmation, please book the active participant ticket (this is in addition to your existing passive ticket).
WORKSHOPS & PRESENTATIONS
Singing is Life: Our Workshops
Various workshops will be held around the rehearsals and the Come & Sing concert.
Together with our collaboration partners (the Stay At Home Choir, the Singing Hospitals and the Hörregion Hannover), you will:
learn many new skills
meet interesting people
explore the possibilities of your own voice
The program includes events and lectures related to the topics of musical peace work, vocal and hearing health as well as the healing power of singing.
Among the speakers are singers Angelica Goers and Vera Kimmig, brain researcher Prof. Stefan Kölsch, music medicine specialist Prof. André Lee, music therapists Katharina and Wolfgang Bossinger, Elke Wunnenberg from the Singing Hospitals and Julia Lagahuzère from the Initiative Opera for Peace.
PLEASE CHECK OUR SCHEDULE FOR AN OVERVIEW OF ALL OUR WORKSHOPS
FAMILY SINGING DAY | LECTURES | GALA CONCERT
Our final day is packed full of family events and culminates in a beautiful Gala Concert. The Family Singing Day ticket covers the whole day so feel free to dip in, just come to the concert or stay with us for the full day.
FAMILY SINGING DAY
Bringing all generations together: our family singing day.
August 7th (Sunday) is our day for the whole family. We invite young and old, with or without previous experience, to sing together in the beautiful Kuppelsaal of the HCC. Together with Katharina and Wolfgang Bossinger from the Singing Hospitals, you and your loved ones will go on a journey of discovery together through the fascinating world of the human voice. Feel the healing power of singing!
We will also have the fantastic singer/songwriter Suli Puschban and her live band leading you with her inspirational music.
From the late afternoon, you will rehearse your own contribution to the big Gala Concert, which will be the closing event of the first International Week for Peace. You will learn the Peace Song composed on the 6th August with Jennifer John from Liverpool and Stefan Littmann from Hannover in collaboration with UNESCO City of Music Hannover. You will also learn other Peace related songs.
PRESENTATION – MUSIC AND NEUROSCIENCE
Prof. Stefan Kölsch will be giving you a fascinating insight into the world of music and neuroscience. Open your minds, sit back and be ready to be astounded!
THE GALA CONCERT
This is the final event of our first International Week for Peace. If you have been singing with us throughout the day then you will have the opportunity to sing your musical message of peace to Hannover and the whole world, together with all participants and…. our surprise celebrity guest!
Enjoy music from the 36 professionals of the World Choir for Peace together with Sony Classical harpist Lavinia Meijer who will perform tracks from their debut album "Peaceful Choir". Selected participants from our conducting and singing masterclasses will be featured in this concert.
The Family Singing Day starts at 10 a.m. The Gala concert starts at 7 p.m.
REGISTRATION INFO
Check-in and registration information
Please arrive at the check-in point/help desk which you will find in the foyer at the times indicated below. You will then be asked to show your identity card, proof of your choral association membership (e.g. a certificate with a stamp from your choir) and your ticket (scan code printed from your email). Once this is all checked, you will receive a wristband – this is your valid admission ticket for the entire duration of the event and must not be removed.
4th August
10:00 – 13:00:  Come & Sing check-in
19:00 – 19:30:  Conducting Masterclasses Active Participants in the Blauer Saal
5th August
09:00 – 10:00: Check-in for Singing Masterclass Active and Passive Participants & Morning registration for workshops and lectures
14:00 – 15:00: Check-in for afternoon Singing Masterclass Active and Passive Participants
Afternoon registration for workshops and lectures
6th August
09:00 – 09:45: Check-in & registration for Workshops
14:00 – 14:45: Check-in & registration for Workshops
7th August
09:00 – 10:00: Check-in for family sing day. Desk open throughout the day for later check-in.
Family Day Concert – doors open at 18:30.
After buying your ticket online please be aware that workshops cannot be pre-booked. Just sign in for your chosen workshops at one of our registration desks on the day of the event itself.
We will always have a help desk in the foyer for any questions.
When you attend any of the events, please ensure to provide an appropriate form of ID (passport / student ID).
GROUP ACCOMMODATION
Organising accommodation for large groups can be very complicated. Tripmakery will help you save time and money by finding the perfect group accommodation completely free of charge.
HCC Hannover | Kuppelsaal
With a total of 4 large multifunctional event halls, 7 ballrooms of different sizes and 30 conference and seminar rooms on a total of 15,000 square metres of event space, the HCC has a seating capacity of around 13,000 for events of all kinds. On average, 1,200 events with around 400,000 visitors take place in the Hanover Congress Centre each year.
With the historic town hall, the town park was built in 1914 with an area of ​​around 60,000 square metres. Large receptions and outdoor events are regularly organised in this area, and the HCC also offers a second daytime operation, the Rosencafé, in addition to the classic park restaurant.
The Congress Hotel am Stadtpark is directly connected to the HCC, with over 250 rooms, it provides high-quality accommodation to the business district.
The Hannover Congress Centrum is a full-service provider in the truest sense of the word. Both the gastronomic services of the house and all technical services are offered, conceptually developed and implemented directly by the house. This also applies to all organisational, logistical and financial services for an event, so to speak, congress and event management from a single source.
Would you like to be kept up to date with future World Choir for Peace projects? Then leave us your email address and we will send you all the information you need.
Would you like to get more information about the International Week for Peace, or be kept up to date with future World Choir for Peace projects? Then leave us your email address and we will send you all the information you need.